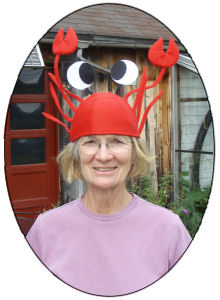 currently a juried member of
the Copley Society of Art,
the Academic Artists Association
and the Hilltown Artisans Guild
---
This is my funny hat. Other hats I wear are artist, wife, mother, grandmother, farmer, business woman, writer, care giver, reader and coordinator. For the past 30 years I have focused on watercolor. While I studied art in college at Skidmore (undergraduate) and Rutgers (graduate), it was a class with Jack Flynn, AWS, in nearby Pittsfield, MA that introduced me to what would become my chosen medium.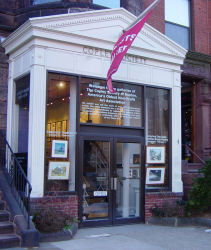 For a long time, both as a teacher and a member of the Hilltown Plein Air Painters, I have especially enjoyed painting outside, en plein air. There is a lot of information in an outdoor setting. Capturing the essentials and the rapidly changing light, give these paintings an immediacy not found in my inside work. My studio paintings are often more considered and abstract. Both approaches have yielded award winning paintings.
In January 2003, I was invited to participate, along with several other artist members, in Watercolor Traditions II at the Copley Society, 158 Newbury St., Boston. One of my paintings, The Milk Shed (bottom left) hung in the window. The dimensions are 16" x 20".
Paintings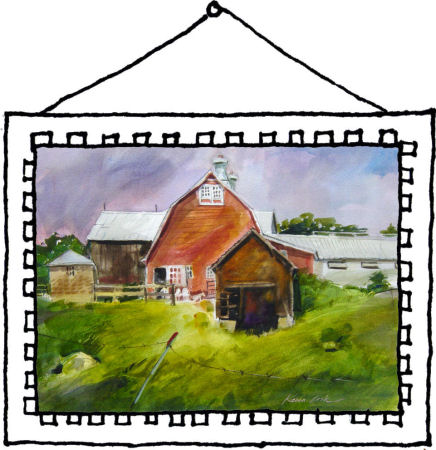 Bridgemont Barns, 20" x 26", is a plein air painting of the working farm of Mary and Peter Montague in Westhampton, MA. I loved the uphill view of the various building shapes.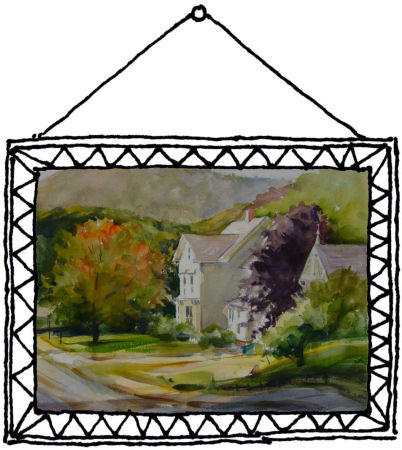 Fall on Pleasant Street, 20" x 26", is another plein air piece painted outside on an easel at the side of the road in early September. Shadows and color drew me to the scene. This painting was juried into the 58th National Exhibition of the Academic Artists Association in the spring of 2008.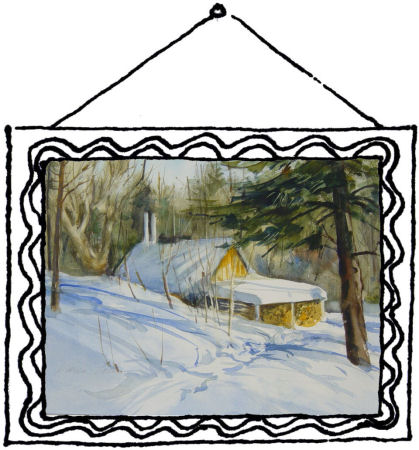 Ready to Boil, 20" x 24", is a watercolor of our sugarhouse deep in the woods below our house. It is a subject I know well. For 25 years we made and sold maple sugar and syrup. Filling the sheds with 20 cords of wood we cut ourselves was the hardest part.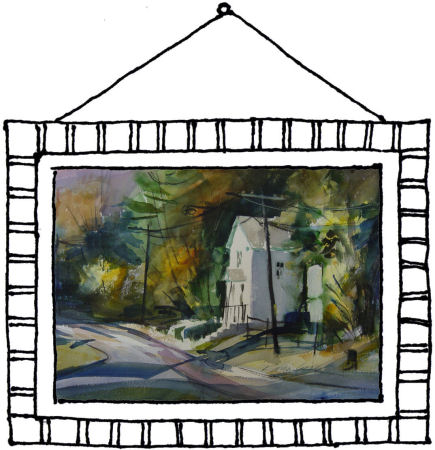 Routes 112 and 20, 20" x 24", was done from the center of Huntington, MA, looking east. The colors and strong light of October made this a dramatic subject.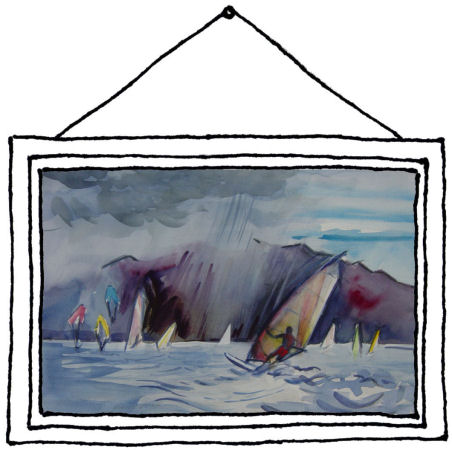 Kanaha Makani, 20" x 28", is a painting of wind surfers in the bay at Kahului, Maui, HI where my family vacationed in 2007. The closest windsurfer is my oldest son, who was actually born in Hawaii.He surfs now in Gloucester, MA.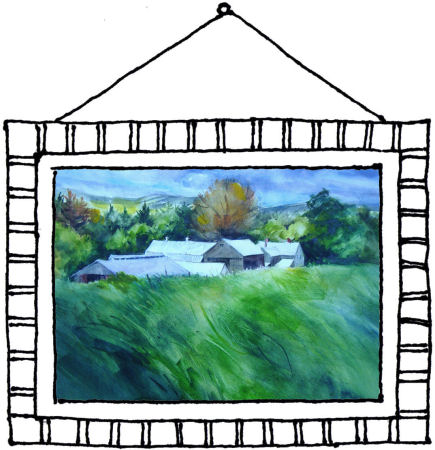 May Morning, 20" x 28", is the second painting I did at the Montague's farm. This was done from the opposite direction, at the top of the field, looking down on the barns and home. The grass is deep green, the trees just leafing out, and the weather a bit unsettled.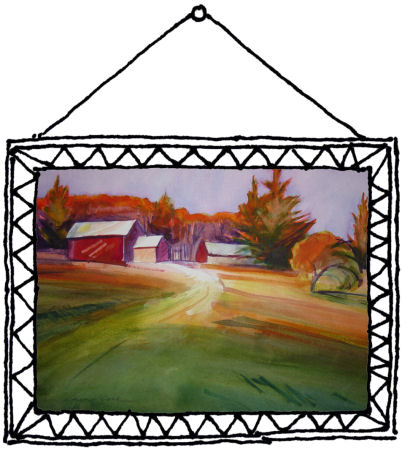 Last Light, 20" x 26", was the third watercolor I had juried into a New England Watercolor Society show. It also won an award in the Springfield Art League Northeast Juried Competition at the Springfield Museum of Fine Arts. This painting evolved from versions I had done while teaching a watercolor class at Notchview, a Trustees of Reservations property in Windsor, MA.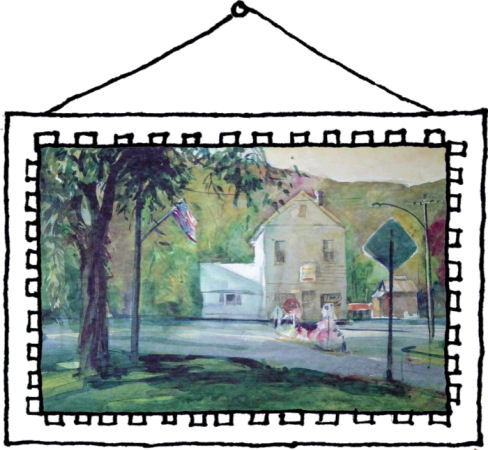 Village Pizza, 20" x 26", is a giclée, an archival print, of a watercolor done outside, en plein air, in the town of Bernardston, MA three weeks after 9/11. Note the flags. Shade in the foreground put a spotlight on the store and background hills.
Cards
I have produced 3 sets of notecards, each with 2 cards of 4 different images. The envelopes and box (which has a color image of each card on the cover) are natural tan. Price per box including shipping is $20. Email me for instructions if you wish to make a purchase.
Some of the original paintings of these images are still available, as are a few prints. All are 16" x 20" when framed. Please email me for more information.
#1. A Changing Landscape - the view from my window painted throughout an entire year
#2. The Westfield River Watershed - part of a series of paintings done at various locations on the Westfield River. The headwaters of its middle branch are located on our land. Eventually the river flows into the Connecticut and then Long Island Sound at Old Lyme.
#3. Plein Air Paintings - selected from paintings done over four years, in my weekly outdoor sessions with the Hilltown Plein Air Painters.
Please feel free to email me at karincwc@cs.com.
Visit my other site