Join the Hilltown Artisans Guild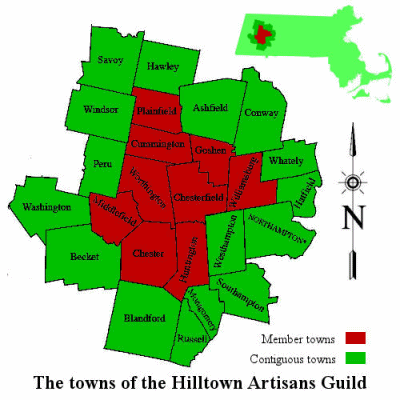 Any artisan or artist eighteen years of age or older is welcome to apply for membership in the Hilltown Artisans Guild.  Review of the applicant's work is required before membership takes effect.  The Hilltown Artisans Guild is focused on the region that includes Middlefield, Worthington, Cummington, Plainfield, Goshen, Chesterfield, Russell, Huntington, Chester, Becket and Williamsburg, Massachusetts, and contiguous towns.  Member shows are typically held in the Worthington town hall.
To apply for membership, please fill out an application form and send it, along with a check in the amount of $20 made out to "Hilltown Artisans Guild" to:
Hilltown Artisans Guild
PO Box 581
Worthington MA 01098
You can email us at hilltownartisansguild@gmail.com.
Download the membership application form.
Membership does not guarantee acceptance into Guild shows.